Tweet
Plan a Successful Freelancing Business
California Institute of the Arts
Believe it or not, we are in a recession. Many people lost there job, the future just seems so daunting. If you are having a lucrative gig right now, good luck, but it is never a bad idea to think about you next move and get prepared. I had some freelancing experience in the past, I am still employed right now, but still I enrolled in this course when I see it at first sight. This course is so enthralling, I can not wait to see what is taught.
This course belongs to a Specialization which helps you improve your professional skills as a freelancer, solopreneur, or new business owner. This very first course is all about planning – "explore your interests, skills, and talents in the context of market conditions and customer needs to design a valuable service offering."
Freelancing is a cool lifestyle, however being a freelancer is not that easy. To face this dynamic / fragile world, professional skills seem not enough, the mindset of running your own business will be come more and more important.
Quick Recap
---
---
My Certificate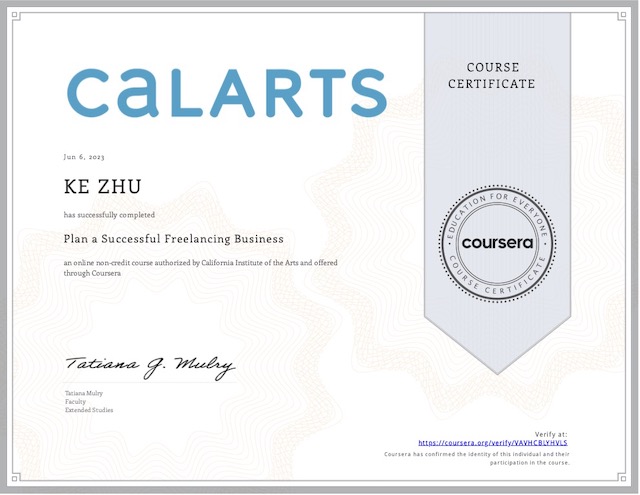 ---
I am Kesler Zhu, thank you for visiting my website. Checkout more course reviews at https://KZHU.ai
All of your support will be used for maintenance of this site and more great content. I am humbled and grateful for your generosity. Thank you!
Don't forget to sign up newsletter, don't miss any chance to learn.
Or share what you've learned with friends!
Tweet