Tweet
Modernizing Data Lakes and Data Warehouses with Google Cloud
Google Cloud
Recently, the concept Lakehouse is really drawing people's attention. It combines the best elements of data lakes and data warehouses. But what is data lake? If you image a scenic view in which there is a beautiful lake and a house nearby, that will be an interesting starting point.
Data Lakes and Data Warehouses are so important that so many IT conglomerates are offering products and fighting in this arena. This course offered by Google Cloud certainly is all about Google's offering: Cloud Storage, and BigQuery.
The hands-on labs from Qwiklabs are always the best part in the courses from Google. But I highly suspected that the voice in lecture is synthesized, which made me tired and hard to focus.
Quick Recap
---
---
My Certificate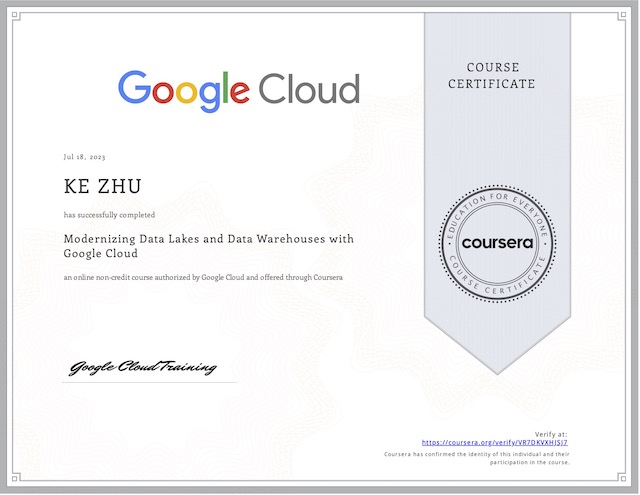 ---
I am Kesler Zhu, thank you for visiting my website. Checkout more course reviews at https://KZHU.ai
All of your support will be used for maintenance of this site and more great content. I am humbled and grateful for your generosity. Thank you!
Don't forget to sign up newsletter, don't miss any chance to learn.
Or share what you've learned with friends!
Tweet