Tweet
Foundations of Business Intelligence
Google
Business Intelligence (BI) has been there for decades, there are already quite a few mature products available on the shelf. Even at this moment AI and machine learning are hotter and buzzier, BI still has its own place that no one else can challenge the value and impact of BI.
If you are considering starting a career in Business Intelligence, this course lays the foundation that you need to know. There is nothing technical in this course, instead, it focuses on people, their roles, the way how they collaborate, plan, and make strategy. This course contains rich resources that you can use as reference. Two mini projects at the end of course are inspiring.
Quick Recap
---
---
My Certificate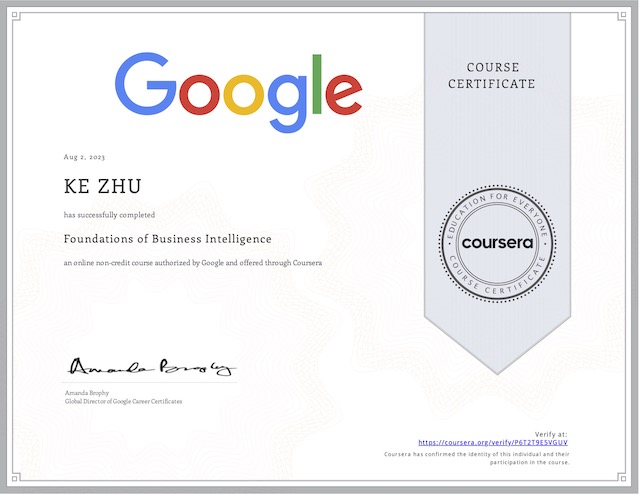 ---
I am Kesler Zhu, thank you for visiting my website. Checkout more course reviews at https://KZHU.ai
All of your support will be used for maintenance of this site and more great content. I am humbled and grateful for your generosity. Thank you!
Don't forget to sign up newsletter, don't miss any chance to learn.
Or share what you've learned with friends!
Tweet