Tweet
Taxation of Business Entities I: Corporations
University of Illinois at Urbana-Champaign
Taxation is a very interesting perspective to observe and understand how business entities work. This course provides an introduction to the U.S. federal income taxation of corporations and their shareholders. The course is designed to cover entire lifecycle of a C corporation, from its formation, operations, distributions to liquidation. In each phase, the relevant provisions of Subchapter C of the Internal Revenue Code are introduced.
The math operations used are no more than addition, subtraction, multiplication, and division. I find the hard part is that it takes time to get used to the style of language, to understand the reasoning and to build the mindset. From the beginning, knowledge seems isolated pieces, it takes time to connect them and see the whole picture.
Quick Recap
---
---
My Certificate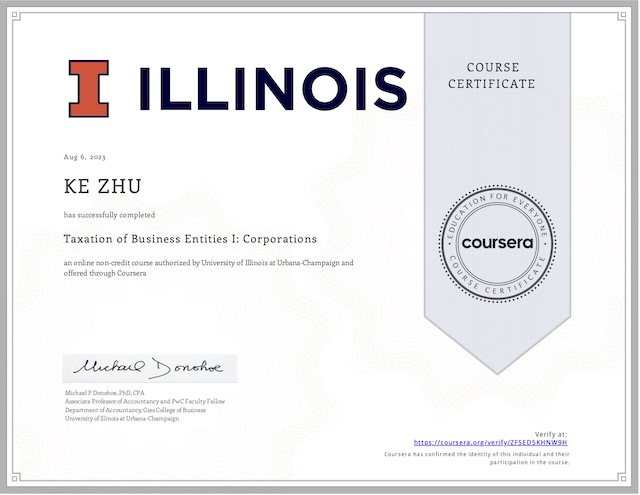 ---
I am Kesler Zhu, thank you for visiting my website. Checkout more course reviews at https://KZHU.ai
All of your support will be used for maintenance of this site and more great content. I am humbled and grateful for your generosity. Thank you!
Don't forget to sign up newsletter, don't miss any chance to learn.
Or share what you've learned with friends!
Tweet