Tweet
Networking in Google Cloud: Hybrid Connectivity and Network Management
Google
OK, as a cloud engineer, you know a lot about VPC and even feel a little boring, don't you? This course introduces lots of interesting things other than VPC, which definitely will take your skills to the next level.
To meet customers' requirements, Google Cloud offers a few layer-2 and layer-3 hybrid connectivity options. Besides Cloud Interconnect and Cloud Peering, the fifth option Cloud VPN is prominent to offer a more flexible and secure solution. Its high availability (HA) version with dynamic routing is certainly a game changer.
---
---
The second half of the course focuses on network management. Network Connectivity Center is a tool you won't ignore if you are managing a network which is complicated enough. Service Tier is another important concept you should be aware when you balance budget and performance. The course also talks about five common network designs, which may not be what you need, but are good to know.
Then course teaches how to use Google Private Access and Cloud NAT to solve the connectivity issues of the virtual machines without public IP addresses – they are called private instances. At last, you will have a chance to experience Terraform, a powerful tool which allows you to provision Google Cloud resources.
The course contains 6 hands-on labs from Qwiklabs, which helps you connect the knowledge you learned and the real world.
Quick Recap
---
---
My Certificate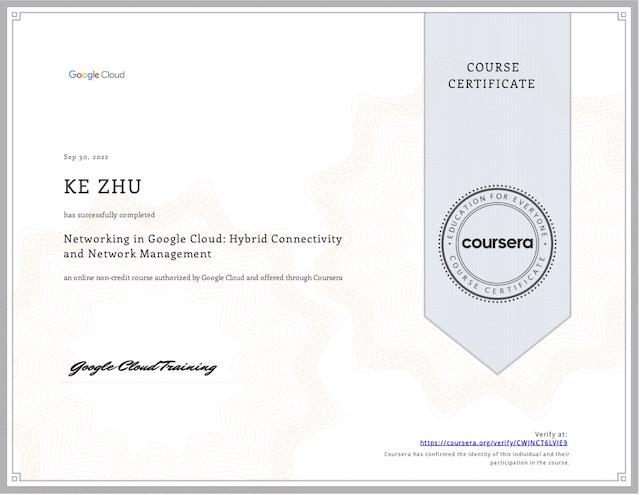 ---
Related Specialization
---
I am Kesler Zhu, thank you for visiting my website. Checkout more course reviews at https://KZHU.ai
All of your support will be used for maintenance of this site and more great content. I am humbled and grateful for your generosity. Thank you!
Don't forget to sign up newsletter, don't miss any chance to learn.
Or share what you've learned with friends!
Tweet