Tweet
Optimizing Machine Learning Performance
Alberta Machine Intelligence Institute
In the real world, the journey to a successful machine learning project does not start with cool ideas and technology. At least, there are thing way more important then "letting your servers crunch data and get results". The first question is to ask: "As an organization, where am I? Is my team ready?"
As the course pointed out, the adoption of machine learning takes much time and efforts. Different organizations are at different stages. Knowing your team and coming up with an suitable strategy is so critical to be the very first step. It is not a surprise that individual employees have fancy ideas, but leads are just "be cool" and refrain from those ideas. Largely because they can see farther, and think more.
---
---
There is also no easy one-shot answer to any machine learning problem. Once a machine learning solution is deployed in and integrated with the existing system, it takes much effort to monitor, maintain and update it, otherwise it may affect the business adversarially.
Learn this course by putting yourself in other's shoes. Think about the moment that you telephone the customer service of your bank, but on the other side of the phone there is a robot or chat bot. Think from the perspective of the head / manager of the bank. What would you expect from this AI solution? How would you run it?
There is no programming assignment in this course, but you will learn many valuable things that will reshape your mindset of machine learning.
Quick Recap
---
---
My Certificate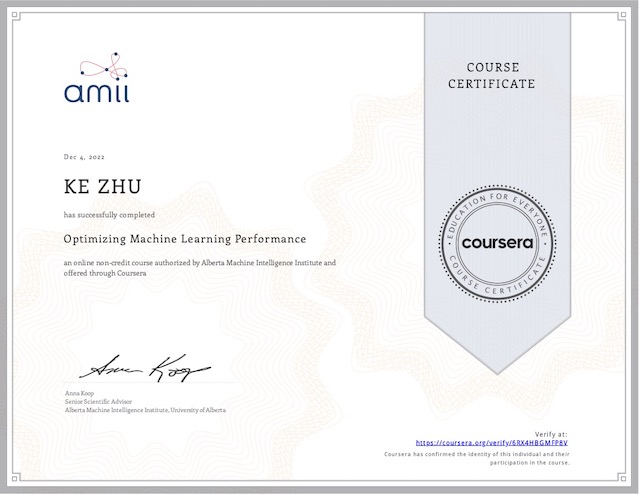 ---
Related Specialization
---
I am Kesler Zhu, thank you for visiting my website. Checkout more course reviews at https://KZHU.ai
All of your support will be used for maintenance of this site and more great content. I am humbled and grateful for your generosity. Thank you!
Don't forget to sign up newsletter, don't miss any chance to learn.
Or share what you've learned with friends!
Tweet