Tweet
Federal Taxation II: Property Transactions of Business Owners and Shareholders
University of Illinois at Urbana-Champaign
As individual or a business owner, have you ever googled questions like "Why are taxes so complicated?" There are quite many articles explaining the reason why. From the internet, I found this answer quite impressive:
Our tax system could be simple if its only purpose were to raise revenue. But it has other goals, including fairness, efficiency, and enforceability. And Congress has used the tax system to influence social policy as well as to deliver benefits for specific groups and industries.

https://www.taxpolicycenter.org
To have a better understanding of the answer above, I recommend this course which focuses on the rules for property transaction of business owners and shareholders. There are too many things to learn. Don't learn fast – more haste, less speed. Also taking study notes is a good idea, you will need to review them later.
Upon completion of this course, you definitely have no way to become an tax expert. At least, you will know there are rules governing business activities. These rules are enormous, keep changing, and are affecting everyone in the society.
Quick Recap
---
---
My Certificate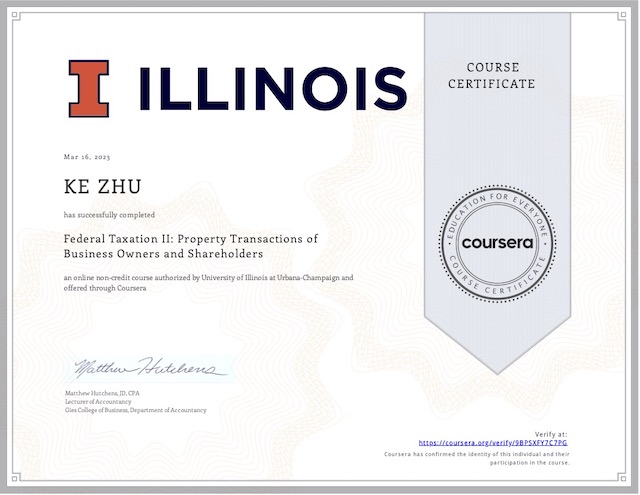 ---
I am Kesler Zhu, thank you for visiting my website. Checkout more course reviews at https://KZHU.ai
All of your support will be used for maintenance of this site and more great content. I am humbled and grateful for your generosity. Thank you!
Don't forget to sign up newsletter, don't miss any chance to learn.
Or share what you've learned with friends!
Tweet