Tweet
Google SEO Fundamentals
University of California Davis
I have been using WordPress for a while, blogging on this platform is really a joyful experience. However search engine optimization (SEO) is never as easy as installing a few "magic" plugins. Those excellent plugins can help you, only if you have obtained sufficient background knowledge of SEO. This course comes to the rescue, it solves many questions that have been haunting in my head.
This course first concentrates on the On-Page SEO. It clarifies the role of a few important elements of HTML pages: title tags, meta description, meta keywords, URLs, heading tags, etc. Proper use of these elements are crucial for your site to be found and analyzed by search engines properly, even though the high quality of the content is utterly the most important factor.
---
---
Next, the course focus on Off-Page SEO, particularly the history of PageRank and the influence of social media, which is not only useful to SEO, but to the boarder marketing strategy.
The third topic is the Technical SEO, the purpose of which is to improve the structure of website as a whole. It is much better to consider Technical SEO at the design stage of a website. Site maps, the robots.txt file, treatment of error codes, and redirects are all covered.
Last, not the least: Keyword Theory and Research. This is the module that will take your SEO skills to the next level. You will know better how users conduct search, and how long-tail keywords are extremely beneficial to driving the right traffic to your sites.
After completing this course, I actually spent plenty time to modify my website according to what I learned. I see immediate traffic improvement from Google search engine. Nice~
Quick Recap
---
---
My Certificate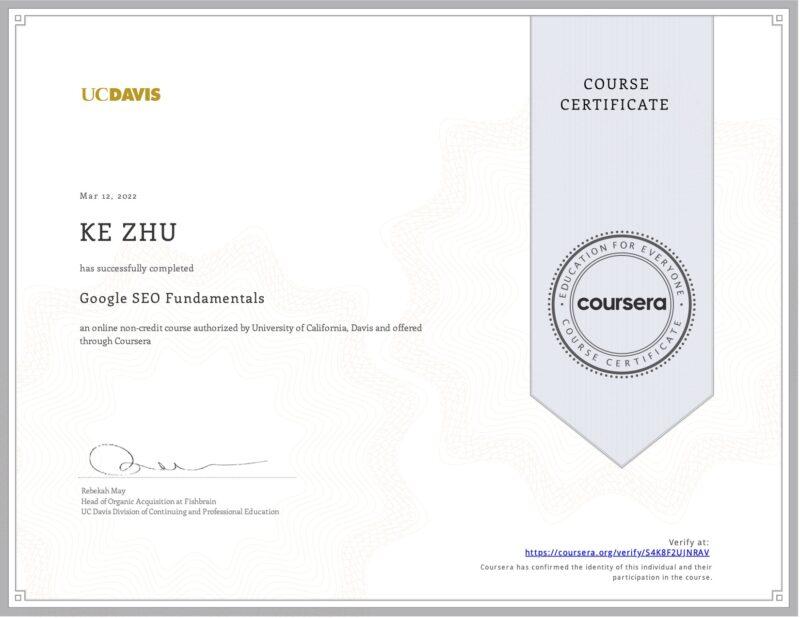 ---
I am Kesler Zhu, thank you for visiting my website. Checkout more course reviews at https://KZHU.ai
All of your support will be used for maintenance of this site and more great content. I am humbled and grateful for your generosity. Thank you!
Don't forget to sign up newsletter, don't miss any chance to learn.
Or share what you've learned with friends!
Tweet