Tweet
Google Cloud Big Data and Machine Learning Fundamentals
Google
What comes to your mind when you see the words Google and machine learning? I guess many of you will answer TensorFlow, believing that TensorFlow is definitely the jewel in the crown. However this course will introduce you to many other refined gemstones offered by Google. 🙂
---
---
The course begins with introductions to some basic concepts: compute, storage, big data and machine learning products. No big deal. But after that, more interesting is the data streaming services: Pub/Sub for data ingestion, Dataflow for creating pipeline, and Looker or Data Studio for visualization. These important services demonstrate the fact that processing data is equally important than training cool models.
The next part of the course focus on BigQuery, which is actually a data warehouse product, offering both storage and analytics services. Hey, I know it is cool to use neural networks to distinguish images of cats from those of dogs, but the reality is data warehouse is still relevant today, and you should not ignore it as a data engineer.
Lastly, the course covers the options of machine learning. Besides the BigQuery, Google offers built-in API, AutoML, and custom training for different target clientele with different tastes. The unified platform Vertex AI brings all the components of the machine learning ecosystem and workflow together.
Quick Recap
---
---
My Certificate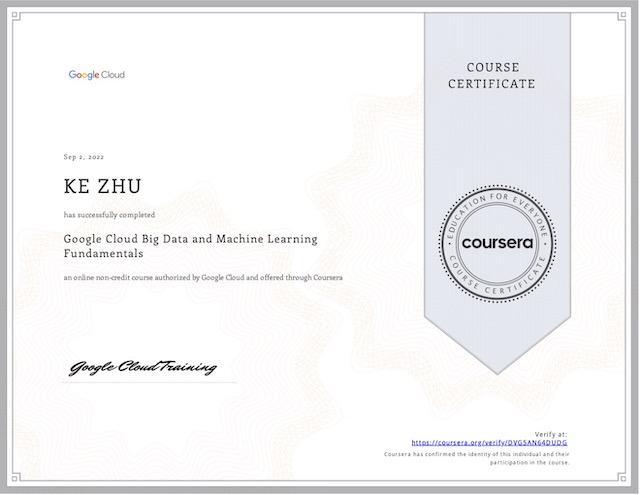 ---
I am Kesler Zhu, thank you for visiting my website. Checkout more course reviews at https://KZHU.ai
All of your support will be used for maintenance of this site and more great content. I am humbled and grateful for your generosity. Thank you!
Don't forget to sign up newsletter, don't miss any chance to learn.
Or share what you've learned with friends!
Tweet