Tweet
Microsoft Azure Management Tools and Security Solutions
Microsoft
Microsoft Azure offers a wide array of management tools and services. You will be introduced to them in this course. The course is bases on different business scenarios, and you will be asked to help choose the best solution for each of the scenarios.
Actually this course introduced a lot tools and services, for development, for monitoring and for configuring cloud environment, and there is even more for internet of things, for network, for security threat, … The course wants to cram and spoon-feed a lot information into you, sort of.
The bright side is that you can learn a lot and grasp the bigger picture in a short time. But on the other side, you might feel lost and indecisive. So did I.
Anyway, Microsoft Azure really offers lots of options for you. Hopefully this course will be your guide and help you find your way through the maze. However it is still important to learn from practice.
Quick Recap
---
---
My Certificate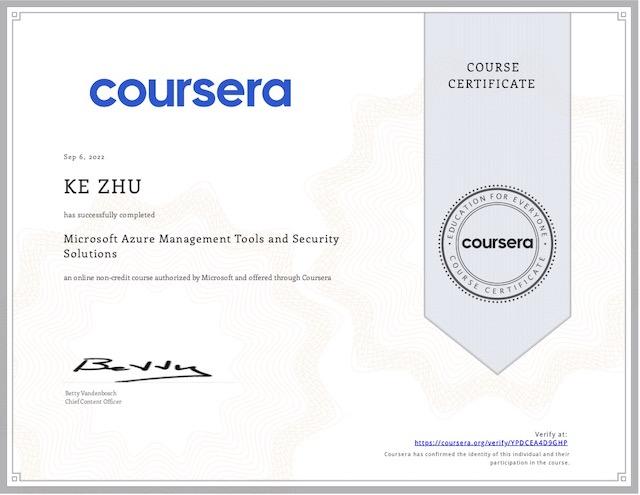 ---
Related Specialization
---
I am Kesler Zhu, thank you for visiting my website. Checkout more course reviews at https://KZHU.ai
All of your support will be used for maintenance of this site and more great content. I am humbled and grateful for your generosity. Thank you!
Don't forget to sign up newsletter, don't miss any chance to learn.
Or share what you've learned with friends!
Tweet