Tweet
Microsoft Azure Fundamentals AZ-900 Exam Prep
Microsoft
Hey, there, this is my 10th specialization. It is all about the fundamental knowledge, skills, and confidence to begin a Microsoft Azure certification journey. Over last decade, Microsoft's cloud strategy is really successful. Microsoft shows you a path that you can be part of its cloud success, and even more.
Everything has its own roots. The services offered by Azure won't be unfamiliar if you had experience with Microsoft's products or technology. However in the era of cloud, it is impossible to overlook the challenges from network security, and consideration on data and AI governance and regulation is even more important.
It is a pity that Microsoft's logo is not printed on the certificates in this specialization. Instead, it is the logo of Coursera. Probably Microsoft is forcing you to learn more and earn its own certificates. Good luck.
---
---
My Specialization Certificate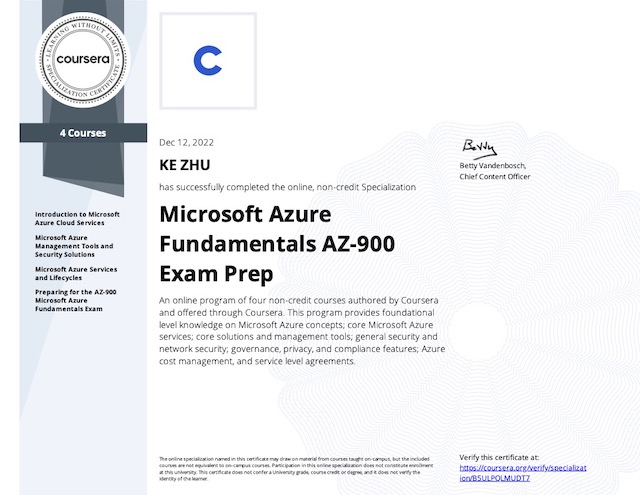 ---
Courses
---
I am Kesler Zhu, thank you for visiting. Checkout all of my course reviews at https://KZHU.ai
All of your support will be used for maintenance of this site and more great content. I am humbled and grateful for your generosity. Thank you!
Don't forget to sign up newsletter, don't miss any chance to learn.
Or share what you've learned with friends!
Tweet