Tweet
Managerial Accounting: Cost Behaviors, Systems, and Analysis
University of Illinois at Urbana-Champaign
I haven't earned a certificate "with honors" for quite a while. To me, the small yellow 'with Honors' sticker is very like a cherry on the cake, making learning experience more interesting and rewarding.
When talking about money in business, there is a new perspective – managerial accounting, that is the purpose of this course. It teaches you how to correctly calculate costs and make the business more profitable, or at least stop you from losing money. Behind the fancy names, like Activity-Based Costs or Cost-Volume-Profit Analysis, the math equation involved is not hard at all. However the challenging part is to correctly categorize costs and make assumptions, otherwise the numbers will misguide you, and lead you the wrong way.
This course evokes so many memories. In business, the only correct decision is the decision that is profitable. You would reach that correct decision had you been able to estimate costs correctly.
Quick Recap
---
---
My Certificate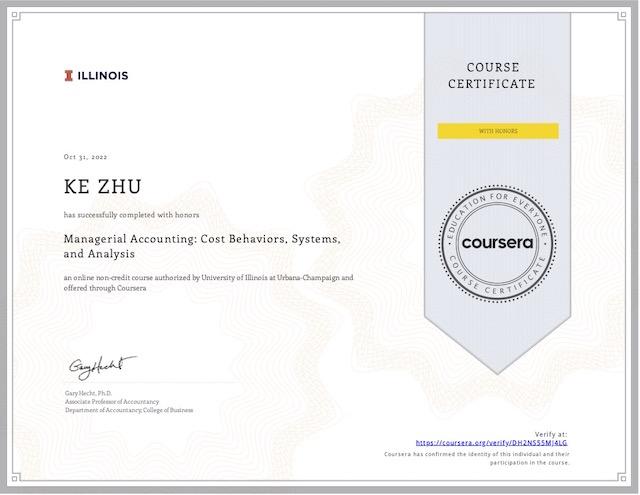 ---
I am Kesler Zhu, thank you for visiting. Checkout all of my course reviews at http://KZHU.ai
All of your support will be used for maintenance of this site and more great content. I am humbled and grateful for your generosity. Thank you!
Don't forget to sign up newsletter, don't miss any chance to learn.
Or share what you've learned with friends!
Tweet