Tweet
Microsoft Azure Services and Lifecycles
Microsoft
Your journey to cloud is not always about technology. Try to think as a CEO or from the perspective of management, there are more greater challenges. This course will rewire your brain, and let you recognize the other side of the clouds.
Engineers tend to pursue trends, and omit important elements that keep business running, like regulatory compliance, cost savings, service-level agreements and legal consequence. However they are critical for cloud providers to bear these business elements in mind and provision corresponding services.
Cloud governance is the main focus of this course, before that the Identity Services are briefly introduced, since authentication, authorization, role-based access control are the cornerstones. Even though most of us do not have chance to design organization structure of big tech, you still might get benefits from these knowledge once you run your own business. The course then introduces a few useful tools: resource locks, tags, Azure Police and Azure Blueprints, they will make the governance more effective and efficient.
---
---
The course talked about a few important documents: Microsoft's Privacy Statement, the Online Services Terms and the Data Protection Addendum, which detail Microsoft's commitment to protecting data and privacy in the cloud. It is good to know what to expect, even though most of people don't have power to negotiate.
Managing costs is vital to a business. It is not uncommon that many people complain that cloud services are expensive. Cloud services are a good choice only if you pinch pennies. It better to "Measure twice, cut once." It is always not enough to emphasize the importance of Service-Level Agreement. It not just between you and Microsoft, it even more important between you and your customer and users. Learn how to calculate the composite SLA.
This is an excellent course. You will learn a lot of cloud, but from managerial and business perspective.
Quick Recap
---
---
My Certificate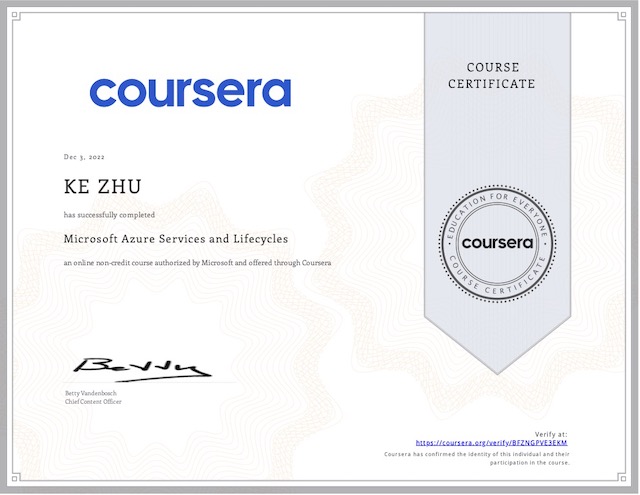 ---
Related Specialization
---
I am Kesler Zhu, thank you for visiting my website. Checkout more course reviews at https://KZHU.ai
All of your support will be used for maintenance of this site and more great content. I am humbled and grateful for your generosity. Thank you!
Don't forget to sign up newsletter, don't miss any chance to learn.
Or share what you've learned with friends!
Tweet