Tweet
Introduction to Google SEO
University of California Davis
This is a wonderful course about marketing by means of search engine optimization. Over the years, SEO is no longer as simple as following a checklist, it needs a holistic approach since there is a higher barrier of entry. The course covers a lot of material: what SEO is; how about as a career path; the fundamentals and frameworks in SEO industry; search engine; topic modeling and association; branding; and at last persona development, etc. All of them are very instructive.
---
---
The course put much effort on how search engine works; and how it evolved over the past few decades. A few important and critical algorithm updates are deliberated. I found them very useful and interesting, I am totally obsessed. From algorithm update Panda, Penguin; to EAT, YMYL and BERT, even though the course only scratches the surface, it is already splendor enough for me to see how search engine and SEOs evolved dramatically and shook landscape of the industry.
I, like any blogger, deliver valuable content and heavily depend on search engine to promote them. This course taught me a lot and solved many questions once I asked to myself. If you are running a website and you are looking for some guide, this course is worth it.
Quick Recap
---
---
My Certificate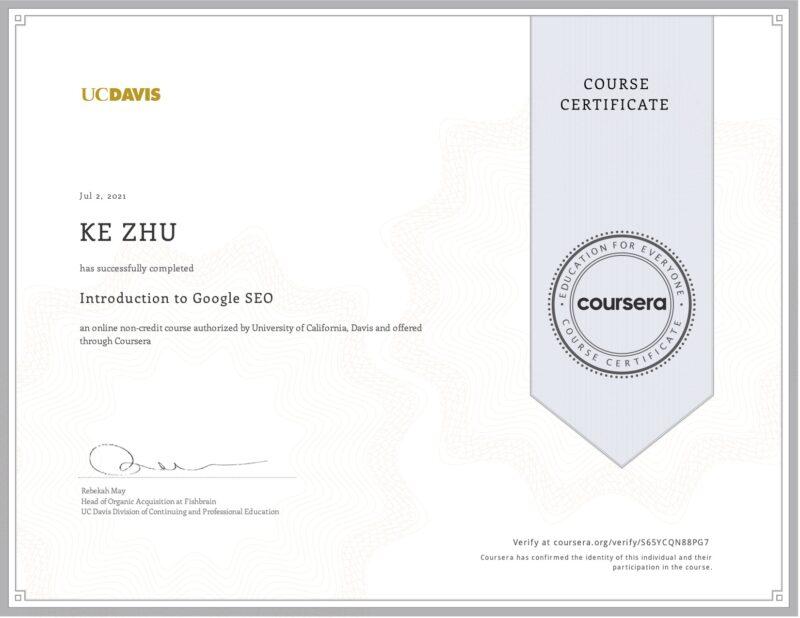 ---
I am Kesler Zhu, thank you for visiting my website. Checkout more course reviews at https://KZHU.ai
All of your support will be used for maintenance of this site and more great content. I am humbled and grateful for your generosity. Thank you!
Don't forget to sign up newsletter, don't miss any chance to learn.
Or share what you've learned with friends!
Tweet