Tweet
Contracts & Employment Law
University of Illinois at Urbana-Champaign
This is a very useful course for non-experts, because we all do business every day. The course firstly introduced all elements of a valid contract, a little theoretical, but instructive to help identify the reasons why an agreement is not enforceable. Besides rules from common law, the course then examined the special rules (UCC Article 2) that apply to contracts for the sale of goods. At last the course covered very basics of agency and employment law.
I sign contracts often, this course reminded me of a few occasions in the past, and taught me a lot more. When studying this course, there has been many times that I asked myself: "Oh, gee, is there a rule like that?" My take home message is "Oh, my, next time before signing any contract, I need to consult with a lawyer."
Quick Recap
---
---
My Certificate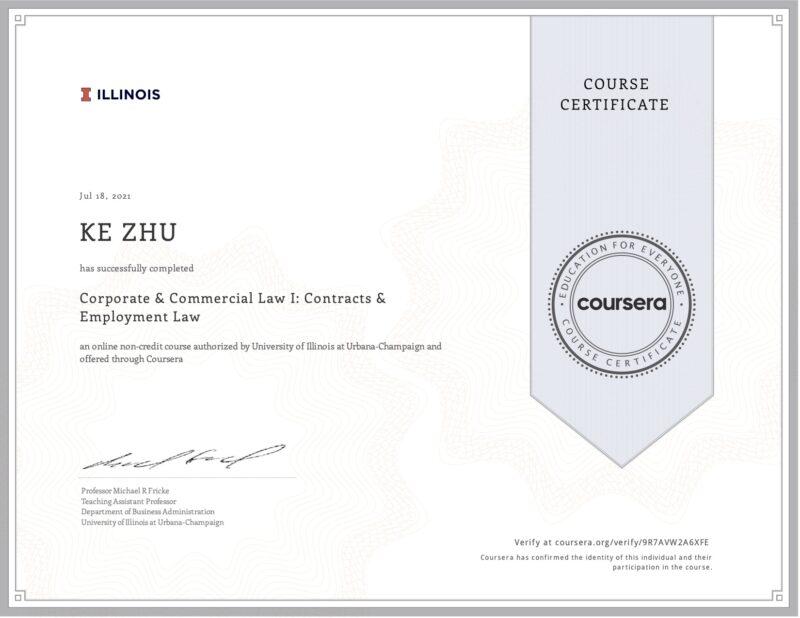 ---
I am Kesler Zhu, thank you for visiting my website. Checkout more course reviews at https://KZHU.ai
All of your support will be used for maintenance of this site and more great content. I am humbled and grateful for your generosity. Thank you!
Don't forget to sign up newsletter, don't miss any chance to learn.
Or share what you've learned with friends!
Tweet