Tweet
Corporate & Commercial Law II: Business Forms, Financing & Governmental Regulation
University of Illinois at Urbana-Champaign
University of Illinois offered lots of amazing business courses and this is one of them. This course first introduces various forms of business, among which LLC (Limited Liability Company) interests me a lot, which is quite modern and essentially a hybrid between a corporation and a partnership.
Next there are some topics that probably no one likes, but unavoidable sometimes: bank, debt and bankruptcy. It's all about rights, liabilities of different parties of the debtor-creditor relationship you are involved in. Bankruptcy is really not funny.
---
---
Besides banks, businesses are under regulations of administrative agencies, which are government entities that are housed in the executive branch. It is important to notice that they are so powerful that they make rules, investigate violations, and meanwhile enforce rules! I also find interesting the way that administrative courts work is different from that of regular courts.
The lecture of antitrust demonstrates there is a strong policy in favor of increased competition. Antitrust laws try to promote competition and prohibit companies from dominating markets too much or harming competition. Last but not the least: securities related laws, IPO process, insider trading are introduced.
Regarding the complexity of the business world, this course is very instructive and informative.
Quick Recap
---
---
My Certificate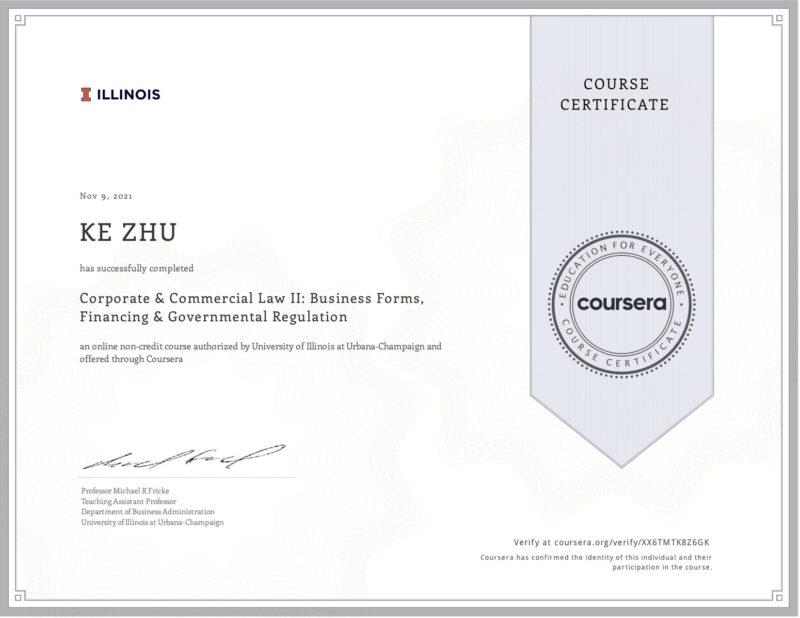 ---
I am Kesler Zhu, thank you for visiting my website. Checkout more course reviews at https://KZHU.ai
All of your support will be used for maintenance of this site and more great content. I am humbled and grateful for your generosity. Thank you!
Don't forget to sign up newsletter, don't miss any chance to learn.
Or share what you've learned with friends!
Tweet