Tweet
Data for Machine Learning
Alberta Machine Intelligence Institute
Do you agree that the skills of manipulating data is more important than building fancy models? I do believe so. Raw data is almost never ready to use, and they are only valuable only if being extracted and transformed properly. "Garbage in, garbage out". Moreover live data expose more challenges to data engineering, everything must be done on-the-go in a timely manner.
This course covers many topics, it talks about a lot issues you will face in the real world. I resonated for quite a few times during the course. Properly understanding the machine learning problem and your raw data at hand is the very first step. It lays the foundation of transforming them into the form that is useful and efficient. The course is in fact conveying information and feelings that a solid background of probability and statistics is critical, even though the course is not about probability and statistics.
The course progressed at a fast pace, the quiz is not difficult. But I suggest that you don't learn too fast. Very sentence in the lecture deserves your attention. Think about the meaning behind it for a second. There are a few videos closely related to the other courses in the same specialization, they are connecting some topics and actually help you setup the entire system.
Quick Recap
---
---
My Certificate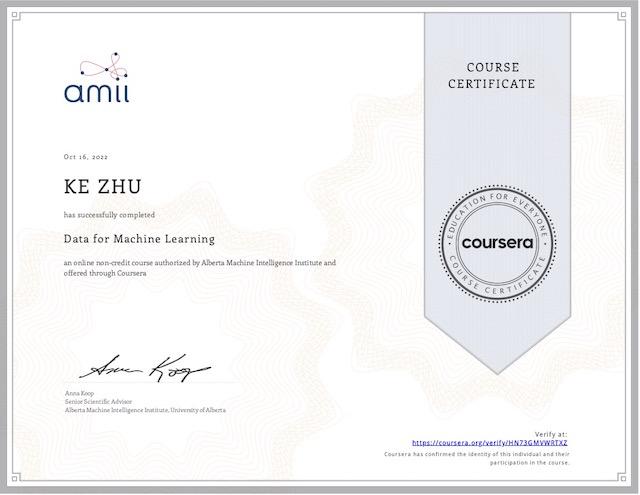 ---
Related Specialization
---
I am Kesler Zhu, thank you for visiting my website. Checkout more course reviews at https://KZHU.ai
All of your support will be used for maintenance of this site and more great content. I am humbled and grateful for your generosity. Thank you!
Don't forget to sign up newsletter, don't miss any chance to learn.
Or share what you've learned with friends!
Tweet