Tweet
Startup Valuation Methods
Duke University
Hey, new business owners, this wonderful course is for you! You probably have already learned a lot about financing and accounting, you already know how to prepare tax and negotiate with banks. But this course offers one more perspective: how much is your business worth in the eyes of investors? Or if you think big, how can you leverage other people's money to make your dream true?
---
---
Bear in mind the time value of money, determining the cash flow is the very first step. Here you will encounter revenue, cost, tax, capital expenditure,… I am pretty sure they will remind you of the principles in accounting. A new but extremely important factor is the probability of success, which is crucial that influences the decision of investments. It is quite an interesting experience that if you imagine you are an investor and examine the relation among them.
The second half of the course focus on the venture capital and angel investors. The market and the mechanism have been there for long long time. There are so many successful stories, but remember there is no free lunch and probably it is even more expensive. There is a little math particular in the three topics: the VC method, option pools and anti-dilution, they're actually very helpful for you to figure out what's under the hood.
Quick Recap
---
---
My Certificate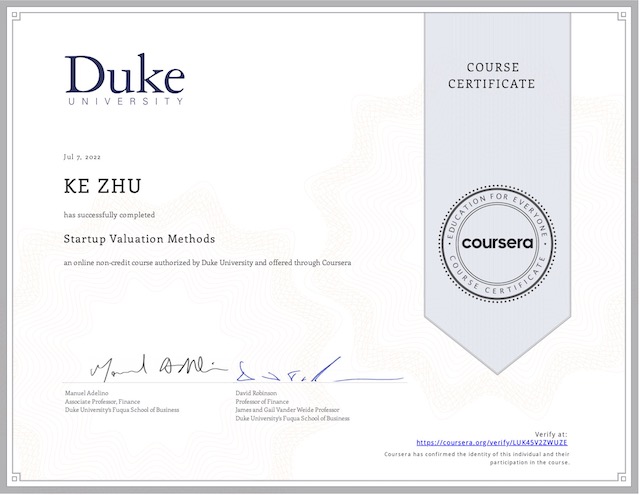 ---
I am Kesler Zhu, thank you for visiting my website. Checkout more course reviews at https://KZHU.ai
All of your support will be used for maintenance of this site and more great content. I am humbled and grateful for your generosity. Thank you!
Don't forget to sign up newsletter, don't miss any chance to learn.
Or share what you've learned with friends!
Tweet